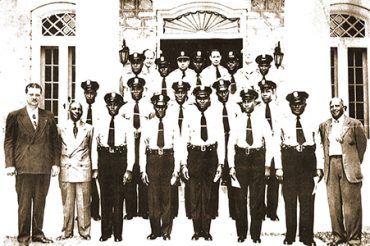 The Pioneers
The following is a list of the patrolmen, jailors, clerks and commanders who served the City of Miami and at the Black Police Precinct and Courthouse from 1944-1963.  No complete records listing the names of the officers assigned to the precinct has been located.
This list has been compiled thanks to the contributions of other officers. Many of the men listed below went on to become top detectives and supervisors with the City of Miami Police Department. We salute them for their service.
We also honor the ones not listed.  If we've missed someone in error, please call 305-329-2513 or email info@historicalblackprecinct.com.
First Five Patrolmen
HALL, Moody
KIMBLE, Edward
LEE, Clyde
MILLEDGE, John (Killed in the Line of Duty November 1, 1946)
WHITE, Ralph
A
ALBURY, James
ALLGOOD, Cleophus
ANDERSON, Cicero
B
BLOUNT, Willie
BOWE, James
BOWEN, Lury (Sgt.)
BOWLES, M.C.
BOYD, Robert (Sgt.)
BROOKS, Amos
BROWN, Hernando
BROWN, Rudolph
BRYANT, Charles
BURREL, Jerry
BUTLER, Eugene
BUTLER, Victor (Killed in the Line of Duty February 20, 1971)
C
CALHOUN, Willie
CAREY, William
CARROLL, Whitfield
COHEN, Frank
COLLIE, Buster
COTTON, Earl
D
DAVIS, Joe
DAVIS, Otis
DAVIS, Richard
DICKSON, Clarence (First Black MPD Chief of Police)
DICKSON, Phillip
DUTY, Louis (Sgt.)
E
EBRON, Fred
ENGLISH, John
F
FAISON, John
FARRINGTON, James
FARRINGTON, Prince
FERGUSON, Jerrel (Killed in the Line of Duty)
FINCH, Clyde
FINCH, Marion
FINCHER, Davis
FRINKS, Jacob 
G
GAY, John
GERALD, Samuel
GLADDEN, William
GLASS, John
GOODMAN, Marcellius
GORDON, Willie
GUILFORD, Benjamin
GUNN, James (Jailor)
H
HAMILTON, Kenneth
HARRIS, Andrew
HAYES, Ernest
HAYES, Orange
HILL, Harold
HILL, Jesse
HINES, Jimmy
HUNT, Joe V.
I
INGRAM, Robert (Became Chief of Police, Opa Locka City Manager and Miami Dade County School Board Member)
J
JACKSON, William
JOHNSON, Willie
JONES, Kenneth
K
KIRKLAND, Earl
KIRKLAND, Earnest
KIRKLAND, Rumfie D.
L
LAFLEUR, Leroy Joseph  (Killed in the Line of Duty February 16, 1951)
LEWIS, Bennie
LEWIS, Howard
LEWIS, Thelma (Typist Clerk)
LIGHTBOURNE, Earl (Jailor)
LUCKIE, Emanuel (Jailor)
M
MACK, Nathaniel
MADDOX, Nathaniel
MAPP, Calvin (Became a Circuit Court judge)
MARSHALL, Thomas
MATHEWS, Augustus
McDOWELL, Alexander
McGRUDER, James
McKAY, Archie
McKINNEY, Edmond
McMILLAN, Moses
MILLER, Wilfred
MITCHELL, Eddie
MITCHELL, Harold
MONROE, Robert
MOORE, Samuel
MORLEY, Oscar
MOSS, Ledley
MYLES, Willard
N
NASH, Jesse (Sgt.)
NICHOLSON, Willie
P
PARKS, William
PATTERSON, Clemons
PITTS, Otis, Sr.
POOL, Johnnie
PUYOL, Henry
PYLES, Freeman
R
RAWLS, Gabby
RIGGINS, Ben
ROGERS, Leroy
ROLLE, Percy
ROSS, Orzella (Typist Clerk)
ROUNDTREE, Amos
S
SAMPSON, Alexander
SANDERS, Jerome
SANDLAND, Reginald
SHELMAN, Monroe
SIMS, Cecil
SMITH, Arnold
SMITH, John
SMITH, Leroy (Sgt.) (First Black MPD Staff Officer)
SMITH, Mildred (Typist Clerk)
STUBBS, James
SWEETING, Rudolph
SWEETING, Stanley (Jailor)
T
TAYLOR, Robert
THOMAS, Charles
THOMAS, James
THOMPSON, Gwendolyn (Typist Clerk)
TREMBLE, Roosevelt
TURNER, William
W
WARD, Gary
WASHINGTON, Dan
WASHINGTON, Earnest
WASHINGTON, James
WESTMORELAND, John
WHITE, William
WHITNEY, Richard
WILLIAM, Clinton (Sgt.)
WILLIAMS, Leon
WILLIAMS, Melvin
WILLIAMS, Veloa (Typist Clerk)
WILLIAMS, Willie
WILSON, Jimmy
Y
YOUNG, Johnnie (Killed in the Line of Duty)
White Commanders
Lt. Adair
Captain William O'Connell
Captain George Hailer
Lt. Kelly
Lt. Frank Morrow
Captain Lawrence Nolle
Lt. Keith Wilson.