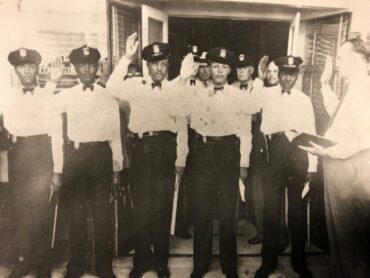 The First Five
When the United States entered the Second World War, Blacks were extensively recruited to serve in primarily menial roles the Armed Forces. Following the war, Black soldiers returned to Miami causing the Black population to swell, contributing to the need for greater law enforcement opportunities in the historically Black neighborhoods.
In 1944, the City's Black population had reached 43,187, with most living in the Central Negro District, formerly called "Colored Town." In a feverish lobbying effort, leaders of the newly created Negro Citizens League finally convinced the City that a Black police presence was essential. Don D. Rosenfelder, Director of the Public Safety Department responsible for police services, began his recruitment of the men who would become the first Black policemen by asking Black leaders to nominate suitable candidates. There was so much resistance from Whites that the training of the Black officers was achieved "under extreme secrecy."
On September 1, 1944, five African-American men made history when they were sworn in as the City of Miami's first Black police officers. They were: Ralph White, Moody Hall, Clyde Lee, Edward Kimball, and John Milledge. These pioneering men, however, were not referred to as "officers" as were their White counterparts, but instead, as "patrolmen."
These patrolmen were assigned to the "Central Negro District," an area that included parts of Liberty City and Colored Town (Overtown). The newly created Black police force became a division independent of the White police force, and first operated from the office of dentist Ira P. Davis at 1036 SW 2nd Avenue. The patrolmen were allowed to arrest only African Americans, and had no authority over Whites. There was no job security or retirement benefits, as the patrolmen were not classified as civil service personnel like their White counterparts.
One year later, the number of Black patrolmen had grown to 15 and they were assigned to the historically Black areas of Coconut Grove. The men were given a prescribed route to travel between Overtown and Coconut Grove that would keep them from interacting with Whites as much as possible.
They were directed to clear crowded sidewalks, stop all gambling and profanity, confiscate weapons as well as stop and frisk suspicious people or known troublemakers. As a result, violent crimes in Black areas were reduced by fifty percent.